Chicago Board of Education vice president Jesse Ruiz recently made an interesting statement: Chicago Public Schools (CPS) isn't able to educate in many cases.

The statement came in the 12/6/12 episode of Chicago Newsroom. Ruiz had this exchange with host Ken Davis:



JESSE RUIZ: Typically, [charters] were put in areas where . . . these were level 3 schools, where some of these charters went into, where we felt, they were just . . . We ourselves, and frankly, it's, CPS's acknowledgment that we are failing to provide this community with a level 1 school. And they deserve it. Every child deserves that opportunity.

KEN DAVIS: This kind of gets right to the heart of this issue of all of you guys who were appointed by Mayor Emanuel when he came in. And there was a broad perception that you were very much pro- . . . at least [pro-]charter, some would say [pro-]privatization, you wanna sell the school system.

JR: I wouldn't put myself in that category . . .

KD: You wanna sell parts off to . . .

JR: We're pro-quality schools, and I think we all are, but I—speaking for myself—I'm neutral on the type of school it is. I'm just pro-providing good options.

KD: But can you address this incredible tension you feel in the air, of people saying, "Yeah, well, if you had just put some money into this traditional school, you wouldn't have to be putting these charters in."

JR: Then you have to contend with the folks who say, "You keep throwing good money after bad." Then you do this, and the results just aren't produced. And then you provide some of those funds to some operators. Noble Street: very good operator in the city. And they're getting the results that, frankly, we weren't able to figure out ourselves. And so I think we owe it to our students to look at every option, and every type of school, be it international baccalaureate—we're bringing more of those programs into the city this year and next—to magnets, to selective enrollment. That's what we've been trying to do.





Chicago Public Schools is the third-largest school district in the U.S., with eight "cabinet-level" divisions—education, accountability, talent, administrative, network supports, portfolio, community affairs, communications (see the accompanying chart)—that include about 5,000 non-teacher staff.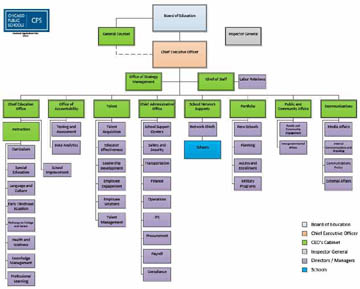 According to Ruiz, CPS staff "weren't able to figure out" what it takes to have a school provide a good education. Really? CPS can't model its well-performing, traditional, neighborhood schools? Then what are we paying these 5,000 people to do? Does it seem obvious to anyone but me that a large, urban public education system should know something about, well, educating? Why do smaller Chicagoland public school systems (with comparatively tiny central offices) provide consistently high-quality schools—without using charters?