Most Chicago aldermen go along with the mayor most of the time.
That's one conclusion of a recent look at the voting records of the Chicago City Council during Rahm Emanuel's time in the mayor's office.
The report, by Melissa Mouritsen Zmuda and Dick Simpson of UIC's Department of Political Science, had this to say:
"Mayor Emanuel enjoys more support than any other mayor before him," including both Mayors Daley.
Of 18 recently elected aldermen, 12 voted with Emanuel at a higher rate than their predecessors.
Five aldermen showed the most independence, voting with Emanuel less than 75 percent of the time: Arena (45th), Fioretti (2nd), Waguespack (32nd), Sposato (36th), and Hairston (5th). These five went on to comprise the majority of aldermen in the recently-formed Progressive Reform Coalition of the City Council.
As reported by journalist Steve Rhodes, 21 aldermen have voted with the mayor 100 percent of the time, and one-third of all council meetings have had no dissenting votes.
Ald. Ricardo Munoz (22nd) voted only 65 percent of the time with Mayor Richard M. Daley, but has voted 87 percent of the time with Emanuel.
Rogers Park Ald. Joe Moore (49th) voted only 51 percent of the time with Daley, but has voted 97 percent of the time with Emanuel.
The report guesses at why Moore has "almost reversed himself completely" in his voting: He wants a promotion. Moore, the authors say, aims to head the Illinois Environmental Protection Agency, and wants the mayor to appoint his wife as alderman.
To identify whether a particular aldermanic vote jibed with the mayor's wishes, the report's authors compared it to the votes of two Emanuel stalwarts: Patrick O'Connor (40th) and Edward Burke (14th). (The authors found that O'Connor and Burke voted identically every time.)
The authors examined City Council votes under Emanuel from 2011 to 2013, and under Daley from 2007 to 2011.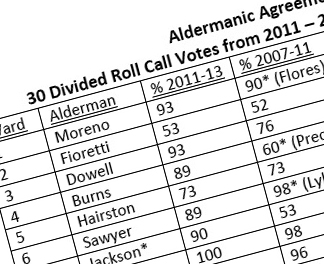 Report: "Continuing the Rubber Stamp City Council"

Table: Rate of aldermanic agreement with mayor by ward