In an interview by Ben Joravsky with Dave Glowacz on the Chicago Reader's Ben Joravsky Show, Dave reported on a couple of real estate measures considered in a March 12 meeting of the Chicago City Council's Committee on Finance—which was aldermen's last public hearing before the city's "shelter in place" edict.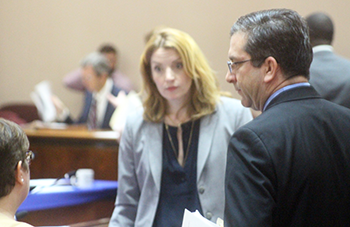 Finance committee chair Ald. Scott Waguespack talks with staffers at the
March 12 meeting. Photo: Dave Glowacz.
First up: a $15 million loan to the developer of a multi-building project in several South Side wards. Dave played a clip in which finance committee member Ald. Ray Lopez (15th) slammed the developer for not contacting him about the project—until a city staffer waved a memo containing Lopez's signature. Lopez reacted audibly, if not verbally.
Dave observed that Lopez might not be used to Mayor Lori Lightfoot's 2019 executive order that forces city departments to "cease each and every" practice of getting aldermanic approval when not mandated by law.
This got Ben riled up over what he called the "fictitious notion" of aldermanic prerogative. "Misguided lefties" dreamed up the notion, Ben said, because they thought Chicago aldermen "are given too much power—when, as we just saw, aldermen have very little power at all."
Next: After accidental audio of Rahm Emanuel impersonating Bill Clinton, Dave described a dust-up over a proposal to fund a part of the mayor's "INVEST South/West" initiative.
Dave played a clip of Ald. Leslie Hairston (5th) castigating the city's law and planning departments for, she said, trying to slip a tax-increment financing (TIF) deal past her.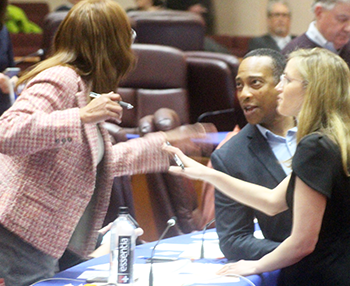 Ald. Leslie Hairston (5th) talks with Ald. Greg Mitchell (7th) during a
committee recess. Photo: Dave Glowacz.
Hairston objected to the city's proposed use of money from the 71st/Stony Island TIF district to fund a contractor's work on INVEST South/West. Meanwhile, Hairston said, "I have projects in my ward that I want to have funded" but city planners "tell me 'no'."
"You are not gonna take money out of my ward," Hairston said, "to build things in other wards."
Dave described how Hairston's tirade caused a committee recess, whereby she got a "back-room deal" that takes fewer dollars from the TIF district in her ward.
Commenting on Hairston's harangue, Ben said that dollars "in the TIF slush funds are not her money"—but, rather, "it's property tax dollars that all of us pay."
"This notion that individual TIF districts belong to individual aldermen," Ben said, "works to the disadvantage of the very people who are supposed to benefit the most from the TIF program."
Length 7.9 minutes standard, 23.3 minutes premium.
Music: "Mixed Emotions" by Más Trueno
Standard audio:
Premium audio: