Ald. Proco Joe Moreno (1st) has announced an unprecedented limitation on a tax-increment financing (TIF) district.
Moreno made the disclosure at an April 5 public meeting on a proposed Diversey/Chicago River TIF district. The district would surround two-thirds of Lathrop Homes, a North Side public housing complex run by the Chicago Housing Authority (CHA).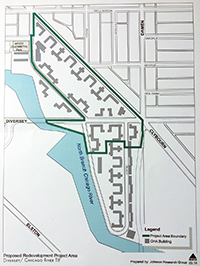 The city of Chicago has over a hundred TIF districts, which divert property taxes from county-wide government operations—such as public schools, parks, and county courts—and which pipe the money to the city for property development.
Lathrop Homes, built in 1938, originally comprised over 900 low-rise public housing units. But, starting about 10 years ago, the CHA has sought to redevelop Lathrop's 30-building complex—making it something other than purely public housing.
At the April 5 meeting, officials said that the city wants to divert $17.5 million of property taxes, via TIF, to help pay for the Lathrop redevelopment.
Moreno revealed that he'll compel the city to:
Limit the TIF district to collecting no more than $17.5 million in property taxes.
Shut down the TIF district within 23 years or after it collects $17.5 million, "whichever comes sooner." State law lets the city extend the life of a TIF district for a total of 35 years.
Confine the district's expenditures to improvements having to do with infrastructure (such as street paving and sewers), affordable housing, education, and public space.
According to Moreno, the TIF constraints will be written into the city ordinance that creates the TIF district. A Moreno staffer said that the proposed municipal code will be drafted by the end of the month.
Also, developers revealed that they want to create a separate, adjoining TIF district for the remaining one-third of the project area.
An audio recording of Moreno describing the TIF district limitations appears below (length 2.6 minutes).
Standard audio: