Developer Sterling Bay has filed plans to construct a 15-story commercial and residential building just outside the border of its Lincoln Yards megadevelopment.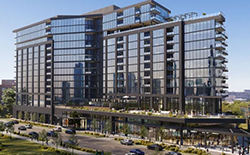 Illustration of proposed building at 2031 N. Kingsbury St.
Source: Sterling Bay.
The proposed building at 2031-2033 N. Kingsbury St., sited on what is currently vacant land, would contain a minimum of 205 off-street parking spaces and up to 359 residential units—36 of which are intended for low-income residents.
When the city approved Sterling Bay's application to rezone 54 acres of vacant land for Lincoln Yards in March of 2019, Sterling Bay had submitted a "Phase 1" plan to construct several buildings at the development's northwest corner—on land that the developer calls Parcels A.1, A.2, and A.3 (see the accompanying map) in a section called Lincoln Yards North. The proposed buildings were to combine office and retail uses.
But in August of 2020, Sterling Bay nixed the original Phase 1 plan in favor of a single commercial building in the section called Lincoln Yards South, on W. Concord Place.
The latest announcement places a residential/commercial building outside of the northeastern edge of the original Lincoln Yards footprint, across the street from Lincoln Yards North Parcels C.2 and C.3.
Article continues below: