Updated 27 March 2020
Aldermen were caught off guard last week by the first legislative push for Mayor Lori Lightfoot's nascent INVEST South/West project.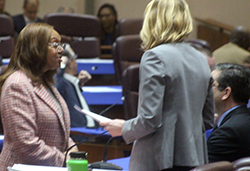 Ald. Leslie Hairston (5th) talks with finance committee
staff after protesting TIF use for INVEST South/West.
Photo: Dave Glowacz.
Announced last October, the mayor's project aims to reinvigorate the West and South Sides by, in part, jumpstarting local businesses.
Some of the first steps—and expenditures—were disclosed in a proposed ordinance at a March 12 meeting of the City Council's Committee on Finance.
The ordinance, not available to the public beforehand, took some committee members by surprise.
Some background: The mayor's Dept. of Planning and Development (DPD) has established 12 West and South Side "priority corridors" where the city will focus on "transportation, housing, and quality of life enhancements."
Just how the mayor wants to pay for these measures was revealed at the March 12 committee meeting, in the form of proposed ordinance O2020-1817, a copy of which was obtained by Inside Chicago Government.
The 25 assembled committee members were asked to approve DPD's plan to hire two contractors for five years each:
Local Initiatives Support Corporation (LISC), paid up to $1,200,000 per year, would create and deploy a "marketing program" for each of the 12 priority corridors. Payment would come from 18 of the city's tax-increment financing (TIF) districts.
National Main Street Center (NMSC), paid up to $500,000 per year, would train and support community organizations and city staff to help grow local businesses. Payment would come from the city's corporate fund.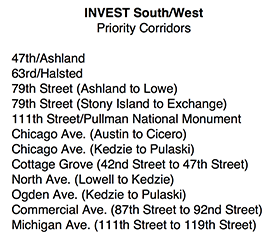 Proposed INVEST South/West Priority Corridors. Source:
City of Chicago.
Evidently, word of the latter payments hadn't reached committee member Ald. Pat Dowell (3rd)—who's also chair of the budget committee. "I thought this was just TIF," Dowell said.
A response to Dowell came not from DPD, but from the city's law department. Assistant Corporation Counsel Keith May confirmed that payments to NMSC "will be corporate funds."
May also corrected a draft of the proposed INVEST South/West ordinance that aldermen had apparently received earlier. May said that the draft showed that marketing efforts for the 79th St. corridor would be funded only from the 71st/Stony Island TIF district. "It will actually include funding from the Avalon Park/South Shore" TIF district, May said. He added that DPD would determine the amount taken from each district "in proportion to the amount of the geographic area" involved.
Ald. Leslie Hairston called that "gobblydook." The 71st/Stony Island TIF district lies mostly in Hairston's 5th Ward—whereas INVEST South/West's 79th St. corridor is situated largely in the 7th and 8th Wards.
"The city over the past years has gone to my [71st/Stony Island TIF district] to take money to build projects in other wards," Hairston said. "So I have been unable, for the past 15 years, to access the full amount of my TIF dollars, because DPD has seen fit to use them in other wards."
"I have projects in my ward that I want to have funded which [DPD] is aware of," Hairston said. "And they want to tell me no—that I can't fund it in my ward . . . which is completely unacceptable."
Hairston maintained that only a small part of the 71st/Stony Island TIF district touches the 79th St. corridor. "I'm sure that it is no more than five percent," she said.
Hairston demanded, therefore, that no more than five percent of the TIF district's annual funds go to INVEST South/West.
After a recess called by committee chair Ald. Scott Waguespack (32nd), Hairston emerged to support a revised ordinance proposal—which capped funding from the TIF district in her ward.
Also pushing back on the mayor's marketing expenditures were Alds. Brendan Reilly (42nd) and Ray Lopez (15th).
Reilly grilled DPD's Kathy Dickhut on how LISC and DPD will gauge the effectiveness of city funding.
"The city of Chicago historically has had lots of programs," Reilly said. "They all sound exciting and fun at the very beginning. But at the end of the programs, we're not so sure they were successful or not. And I know this mayor's focused on return on investment."
Dickhut rattled off a list of possible metrics, including the "number and type of business licenses, vacancy rates, and building permits."
Ald. Lopez worried about DPD and LISC creating what he called a "pseudo-bureaucracy" in each of the INVEST South/West priority corridors.
"It seems like we're adding another layer" of local government, Lopez said. "We're putting another barrier between the elected representatives of an area [and] City Hall."
"I've seen it time and again from this administration," Lopez said, where a local organization gets a city grant, and ends up "eating away at the dollars that should be more explicitly spent on the street."
DPD's Dickhut assured Lopez that the city would pay contracted organizations for only "eligible" costs.
The finance committee approved the proposed INVEST South/West funding ordinance with a unanimous voice vote. The ordinance faces full City Council approval at the body's next regular meeting (originally scheduled for Wednesday, May 18, but postponed).
The city did not post the ordinance on-line, nor otherwise release the ordinance to the public, until March 19.
Article: Report on the March 12, 2020 meeting of the Chicago City Council's Committee on Finance for City Bureau