In a discussion by journalists Dave Glowacz and Ben Joravsky, Dave and Ben evaluated parts of 2022's July meeting of the full Chicago City Council.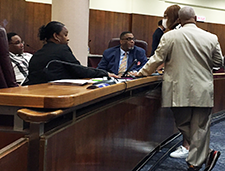 Ald. Jason Ervin (28), Monique Scott (24),
Chris Taliaferro (29), Leslie Hairston (5), and Walter
Burnett (27) talk during the July 20 City Council's
public comment session. Photo by Dave Glowacz.
In the standard version of the episode, Dave and Ben heard part of the meeting's public comments session—and discussed the larger implications for oversight of the council by Chicago residents.
In the premium version of the episode, Dave described an Office of Inspector General report that the police department's methods for reporting overtime hours need substantial reform.
Also in the premium version, audio portrayed the last act in the protracted attempt by Ninth Ward Ald. Anthony Beale to raise the speed at which Chicago's speed limit cameras are triggered—an effort was finally killed by the council.
In separate piece, premium audio provides aldermen's entire, hour-long discussion before they voted on Beale's speed camera ordinance.
And in the premium version of the episode, Dave and Ben heard how aldermen boosted enforcement against illegal drag racing—while, at the same time, a downtown NASCAR race course was planned and defended by Mayor Lori Lightfoot. Audio revealed the mayor's defense of the NASCAR scheme, and her reaction to aldermen who want to impose council approval.
Length 9.3 minutes standard, 47.2 premium.
Music: "Burn" by Room For A Ghost
Standard interview audio:
Premium interview audio:
Premium audio of aldermanic discussion on speed cameras: