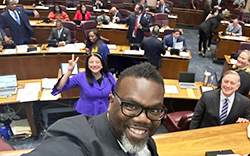 Mayor Brandon Johnson takes a selfie at the May 24
council meeting. Source: city of Chicago.
In a discussion by journalists Dave Glowacz and Ben Joravsky, Dave and Ben probed audio from 2023's May 24 and May 31 meetings of the full Chicago City Council—the first ones for newly elected Mayor Brandon Johnson.
The standard version of the episode features the reactions—both opposing and supporting—of aldermen to Mayor Johnson's proposed slate of 20 council committees and their associated chairs at the May 24 meeting.
In the premium version of the episode, Dave and Ben examined the May 24 speech by 32nd Ward Ald. Scott Waguespack, in which he acknowledged that the mayor's committee slate would cost him the chairmanship of the council's powerful finance committee.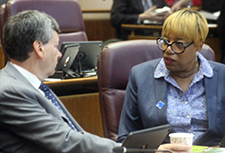 Newly-approved committee chairs Alds. Brian
Hopkins and Pat Dowell. Photo by Dave Glowacz.
Also in the premium version, Dave and Ben considered excerpts from the council's raucous May 31 meeting. In that meeting, both aldermen and members of the public weighed in passionately on the administration's proposal to repurpose tens of millions of dollars to support the many migrants sent to Chicago from U.S.'s southern border.
Finally, in the premium version, Dave revealed why intensive public participation emerged at the May 31 meeting, but not at the May 24 meeting.
Length 11.4 minutes standard, 51.9 minutes premium.
Music: "U Think U" by Glad Rags
Copyright 2018 (CC BY 4.0).
Standard audio:
Premium audio: