A group of five bureaucrats gave the first governmental green light to an $80 million financing scheme to support a residential and commercial development on Chicago's South Side.
In a unanimous vote, a state-mandated body called a joint review board (JRB) approved the Cicero/Stevenson tax-increment financing (TIF) district in a videoconference meeting on March 3. The proposed district is located south of the Stevenson expressway, west of South Cicero Ave.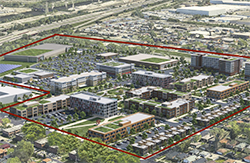 Proposed development on east side of Cicero/Stevenson
TIF district. Source: city of Chicago.
According to state law, a JRB gives representatives of the local taxing governmental bodies a forum in which to judge whether a proposed TIF district meets the state's eligibility criteria: that, but for tax-increment financing, property development would not occur in the area—depriving local governments of additional property tax revenue. But, in approving a district, the taxing bodies also agree to temporarily forego the increase in property taxes that the development would spur.
The governmental bodies that have a say in any Chicago-based TIF district—and therefore may sit on the JRB—are the city of Chicago, the Chicago Park District, the Chicago Board of Education, Chicago City Colleges, Cook County, and the Metropolitan Water Reclamation District (MWRD)—because they each receive property taxes that Chicago TIF districts potentially divert. A representative from MWRD did not attend the March 3 meeting.
The government employees who represented the taxing bodies were:
Trasjuan Creed, a capital finance manager with Chicago Public Schools
Beth O'Reilly, a deputy budget director with the Chicago Park District
Tricia Marino Ruffolo, an economic development project manager with Cook County
Brendan White, a fiscal policy analyst with the city of Chicago
John Zukosky, an associate budget director with City Colleges of Chicago
State law also requires that the JRB include a "public member" who's not a government employee.
The public was represented by JoAnne Williams, who has played an active role in the development of a new campus for a charter school, Academy for Global Citizenship, sited in the middle of the proposed TIF district. Williams's participation in the meeting was apparently arranged in advance.
The meeting included no comment period for other members of the public.
Development consultant Ralph Kinser gave a presentation on the TIF district. Links to Kinser's presentation and a transcript of the meeting appear below.
Article continues below: