Updated 12 March 2020
The city of Chicago is working to delay the expiration of 13 tax-increment financing (TIF) districts citywide.
In its March 12 meeting, the Chicago City Council's Council on Finance approved the TIF extensions, which Mayor Lori Lightfoot introduced in February.
A TIF district is a special zone in which some of the property taxes paid by landowners are diverted away from schools, parks, and county services. The taxes are instead amassed in an off-budget account, and may be used within the zone to fund building development—by reimbursing private developers for construction debt, and/or paying for new streets, water lines, sewers, and lighting.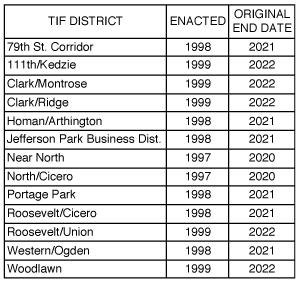 Tax-increment financing districts slated for one-year extensions.
Source: City of Chicago.
In Chicago, although the City Council must approve a new TIF district, its placement and implementation are controlled by the mayor.
Before 1999, Illinois state law required that each new TIF district expire within 23 years of its enactment. But on Nov. 1, 1999, the state's General Assembly let towns such as Chicago add another year to TIF districts created previously.
That's what the City Council's finance committee approved for over a dozen TIF districts, from Rogers Park to Mt. Greenwood.
All of the TIF districts were enacted in the years 1997 to 1999, and were due to expire in the years 2020 to 2022.
According to Tim Jeffries, a deputy commissioner with the city's planning department, the 13 districts expire at various dates throughout their final years—whereas the city's other 122 TIF districts expire at the end of calendar years. The approved extensions, he told the committee, will bring the 13 districts into "conformity."

"They're all getting a 24th year," another city official said in a separate interview. "It's not like they're getting an endless" extension.
Critics say that TIF districts siphon away property tax dollars for far too long. During its life, a district can divert many millions of dollars—which the city's other taxpayers must make up for by paying more.
In a City Council speech last October, Lightfoot pledged to rein in the TIF largesse of past city administrations.
"The days of the TIF slush fund," Lightfoot declared, "are over."


Document: 3/12/20 finance committee meeting agenda showing TIF district extension dates