In a discussion by journalists Dave Glowacz and Ben Joravsky, Dave and Ben listened to and evaluated meetings of the Chicago City Council in December of 2022—which saw approval of major tax-increment financing (TIF) for the Red Line Extension (RLE).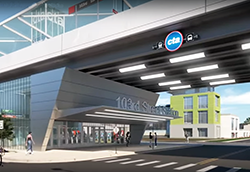 Illustration of proposed Red Line station at 103rd St.
Source: Chicago Transit Authority.
In the standard version of the episode, aldermen spoke in favor of the financing—while decrying the total funding mix.
In the premium version of the episode, Dave played audio of aldermanic opposition to tax-increment financing of the RLE. Dave and Ben reflected on what that opposition says about TIF in Chicago generally.
(You can locate individual parcels—in the RLE TIF district's "Redevelopment Project Area"—whose tax increments will fund the project using this interactive map.)
The premium version also features an overwhelming—but somewhat puzzling—approval by aldermen of a replacement for one of their peers.
Also in the premium version, an activist alderman scuffled with Mayor Lori Lightfoot over a controversial gun-control ordinance.
Finally, the premium version reveals another in a series of attempts by aldermen to take control of committee chairmanships from the mayor.
Length 8.5 minutes standard, 48.1 minutes premium.
Music: "Change" by My Monthly Date
(Copyright 2015. Creative Commons BY-SA 4.0.)
Standard audio:
Premium audio: