In a discussion by journalists Dave Glowacz and Ben Joravsky, Dave and Ben listened to and evaluated meetings of the Chicago City Council that took place in October and November of 2022.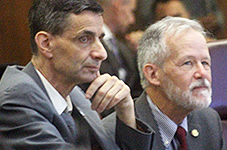 Alds. Nick Sposato (38) and James Cappleman (46)
Photo by Dave Glowacz.
The standard version of the episode featured audio from a Nov. 2 meeting of the council's Committee on Budget and Government Operations. In that meeting, aldermen challenged members of Mayor Lori Lightfoot's administration about Lightfoot's proposed 2023 budget. Aldermen asked how and whether the budget resurrects the Dept. of Environment, which was previously purged by Mayor Rahm Emanuel.
In the premium version of the episode, Dave played audio from the Oct. 26 meeting of the full council. Audio revealed a dispute between Mayor Lightfoot and the acting chair of the council's education committee over Lightfoot's attempt to appoint a different chair.
Also in the premium version, Dave played excerpts from the Nov. 7 meeting of the full City Council, in which aldermen spoke for & against the mayor's proposed 2023 city budget.
Length 13 minutes standard, 63.4 minutes premium.
Music: "With No Reason" by Ema Grace
(Copyright 2018. Creative Commons BY 4.0.)
Standard audio:
Premium audio: