Journalists Dave Glowacz and Ben Joravsky heard and assessed aldermen tussling at the final 2021 meeting of the full Chicago City Council.
The standard version of the episode featured aldermen's differing views—fiscal responsibility versus rewarding bad guys—of non-trial settlements in police misconduct lawsuits. At issue was a $1.2 million payout around a 2014 shooting by police.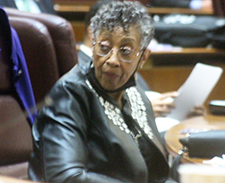 34th Ward Ald. Carrie Austin.
Photo by Dave Glowacz.
In the premium version of the episode, Mayor Lori Lightfoot responded to criticism by her former chief lawyer, Mark Flessner, of the mayor's proposed (and council-approved) $2.9 million payout in a lawsuit over a botched 2019 police raid.
Also in the premium version, Dave played audio from the continuing saga of Ninth Ward Ald. Anthony Beale's quest for City Council legal staff. The drama prompted Dave and Ben to recall some 2020 private conferences between the mayor and aldermen—which spurred a Better Government Association lawsuit to stop future occurrences.
Listeners to the premium version of the episode can also hear what happened to Mayor Lightfoot's proposed ordinance doubling the dollar amount of emergency goods or services the administration could buy without council approval; it got waylaid, then resurrected.
Also in the premium version, Dave played part of a speech given by the 41st Ward's Anthony Napolitano right before his colleagues approved—against his wishes—a residential development with low-income units near O'Hare Airport.
Finally in the premium version, Dave and Ben discussed the pandemic-caused seating of council members—and how that fit into the meeting's medical emergency of 34th Ward Ald. Carrie Austin.
Length 8.9 minutes standard, 51.1 minutes premium.
Music: "Let It Go" by ItsWatR
Standard audio:
Premium audio: