In a discussion by journalists Dave Glowacz and Ben Joravsky, Dave and Ben listened to and opined on 2022's February meeting of the full Chicago City Council.
In the standard version of the episode, Dave played audio of aldermen discussing the city's policy around a particular—but not unique—proposed purchase of a former Aldi grocery store in a tax-increment financing district on the West Side.
In the premium version of the episode, aldermen heaped honors upon Ill. Secretary of State Jess White, and citizen-at-large George Blakemore. Dave and Ben gave their takes on what all that means about whom and what aldermen actually serve.
The premium version also captures the final part, perhaps, in the saga of Mayor Lori Lightfoot's appointment for the head of the Civilian Office of Police Accountability. Aldermen made impassioned arguments for and against the mayor's appointment—and, in the audio, some aldermen revealed why they switched sides.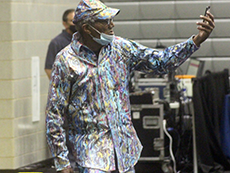 Frequent council commenter George Blakemore.
Photo by Dave Glowacz.
Finally, the premium version of the episode showcases the latest in the proposed ordinance that empowers the city to seize the assets of gang leaders—plus the mayor's reaction.
Length 8.6 minutes standard, 61.9 minutes premium.
Music: "Hot October" by Wood Spider
(Copyright 2014. Creative Commons Attribution ShareAlike 4.0 International license.)
Standard audio:
Premium audio: