In a discussion by journalists Dave Glowacz and Ben Joravsky, Dave and Ben evaluated audio from March, 2022 meetings of the Chicago City Council.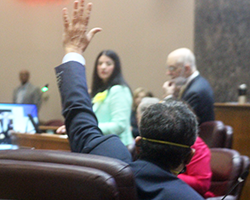 Second Ward Ald. Brian Hopkins seeks e-voting help from
City Clerk Anna Valencia. Photo by Dave Glowacz.
In the standard version of the episode, Dave played excerpts from the March 23 session of the full council. In that session, audio conveyed excitement and confusion over the council's first-ever use of electronic voting—which it'll now use for roll calls instead of voice votes.
In the premium version of the episode, aldermen expressed dismay and righteousness at a proposal by the administration of Mayor Lori Lightfoot for a City Council super-committee to approve of all aspects of a new Chicago gambling casino.
Also in the premium version, Dave played excerpts from a special council session called to approve the mayor's nominee who'd serve the remaining term of the vacated 11th Ward aldermanic seat.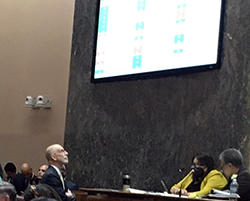 Deputy Corporation Counsel Jeff Levine watches a display
of e-votes. Photo by Dave Glowacz.
The premium version of the episode, additionally, features parts the March meeting of the council's budget committee—revealing the current drama around Ninth Ward Ald. Beale's effort to create a City Counsel legal staff.
Length 7.5 minutes standard, 54.9 minutes premium.
Music: "Nevermore" by The Freak Fandango Orchestra
(Copyright 2011. Creative Commons Attribution ShareAlike 3.0 Unported license.)
Standard audio:
Premium audio: