In a discussion by journalists Dave Glowacz and Ben Joravsky, Dave and Ben heard and weighed parts of the March 15, 2023 meeting of the full Chicago City Council.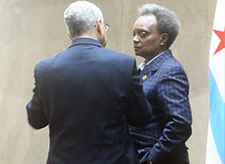 26th Ward Ald. Roberto Maldonado and Mayor
Lightfoot confer at the Mar. 15 City Council meeting.
Photo by Dave Glowacz.
The standard version of the episode features a passionate debate over whether the city should accept state funding for the city's migrant efforts.
The premium version of the episode continues the state-funding debate—which included a parliamentary move that surprised Dave, Ben, and a number of aldermen.
The premium version of the episode also reveals aldermen and Mayor Lori Lightfoot doubling down on the earlier parliamentary move, while avoiding debate on a controversial ordinance that favors labor unions.
Also in the premium version, Dave played examples of different aldermen's "parting shots"—both favorable and not—at the outgoing mayor.
Length 11.2 minutes standard, 51.7 minutes premium.
Music: "Deal N- Truth" by Knowledge (The Knowledge Plug)
Copyright 2017 (CC BY-SA 4.0).
Standard audio:
Premium audio: