Journalists Dave Glowacz and Ben Joravsky listened to and critiqued a half-dozen meetings of the Chicago City Council that took place in May, 2022.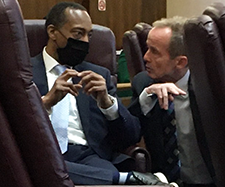 Ald. Tom Tunney (44) talks privately with Ald. Greg
Mitchell (7) before a meeting of the City Council's
special casino committee, which Tunney chairs.
Photo by Dave Glowacz.
In the standard version of the episode, a special May 16 meeting of the full council had aldermen discussing, then approving, a remap of all 50 wards.
The approved measure was a compromise between various factions of aldermen—and audio portrayed how some were upset with the deal, and with each other.
In the premium version of the episode, Dave played audio from the full council's regularly scheduled meeting of May 23. The council met that day in two sessions—because, in between, a special casino committee convened to approve Mayor Lori Lightfoot's proposed Bally's casino project. In the audio, aldermen raised pointed objections.
Also in the premium version, Dave played excerpts from two more meetings of the full council that took place on May 25. In the first, aldermen tussled over the mayor's proposed new curfew rules. And in the second, aldermen's effort to grill city officials about youth safety came to surprising conclusion.
Length 10 minutes standard, 53.2 minutes premium.
Music: "Nassiria e Najaf" by Karina Buhr
Standard audio:
Premium audio: