This year's ward remap shifted some of Chicago's ward borders dramatically.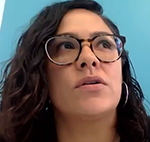 Ald. Rossana Rodríguez-Sánchez.
Source: city of Chicago.
The 33rd Ward, on the North Side, was no exception.
The chief architect of the ward's new footprint was its current City Council representative, Ald. Rossana Rodríguez-Sánchez.
Rodríguez-Sánchez told Inside Chicago Government that the ward's new boundaries are a direct result of her work with ward residents. "It's the role I have, as alderman, representing them," she said. And she denied that she's motivated by a yen for re-election, as critics have said of her peers.
Keeping communities together
In an interview, Rodríguez-Sánchez said that she sought to unite previously split communities into one ward—particularly Albany Park, in the northwest part of the ward.
"Out of all the communities I represent, Albany Park is the most marginalized," Rodríguez-Sánchez said. "It's mostly immigrant, it's people of color. And it was important for us that people of Albany Park could stay together" when new ward boundaries were crafted.
In the current ward makeup, much of Albany Park resides in the 35th Ward, represented by Ald. Carlos Ramirez-Rosa. Rodríguez-Sánchez said she essentially traded with Ramirez-Rosa for parts of Avondale—currently on the 33rd Ward's south end.
"The 35th took some of my Avondale, and gave me their Albany Park—so Albany Park was able to be more together," Rodríguez-Sánchez said.
But she kept the northern part of Avondale—which "had more Latino population"—in the 33rd ward "to make sure that the ward remained majority Latino."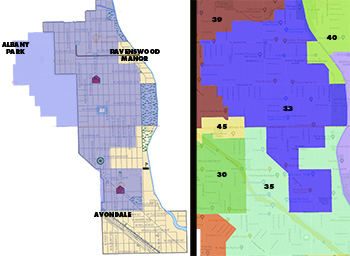 Left: Current 33rd Ward footprint, with new ward footprint superimposed in
purple. Right: new 33rd Ward footprint with surrounding wards.
Source: app.mydistricting.com.
And, keeping that section of Avondale made Rodríguez-Sánchez "definitely happy" because it contains Von Linné Elementary School.
"It's a majority Latino school, and I have been working with them on a lot of different projects," Rodríguez-Sánchez said. "There's a lot of work that we're still doing together."
Another consideration: limiting the number of residents added by the ward's new borders.
After each decennial census, state law requires that the city of Chicago "balance" its 50 wards—ensuring that wards contain about the same number of residents.
"In order to do that," Rodríguez-Sánchez said, "I needed to drop some of the populations" in the current ward—so "we dropped a little bit of Ravenswood Manor" on the ward's northeast side, which went into the 40th Ward.
Rodríguez-Sánchez said she negotiated the Ravenswood Manor shift with 40th Ward Ald. Andre Vasquez.
Boundary shifts: motivated by re-election?
The 33rd Ward revision was part of a citywide ward remap compromise between different factions of aldermen. The Chicago City Council approved the scheme on May 16.
Article continues below: