A newly disclosed but unused cache of city money—over $300,000—could have boosted public input into the redrawing of Chicago's ward boundaries.
Some background: After each decennial census, state law requires the city of Chicago to adjust the boundaries of its 50 wards—ensuring that wards contain about the same number of residents.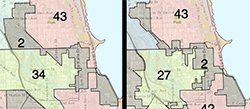 Ward 2 boundaries proposed in Chicago Coalition Map
(left) and Chicago United Map (right).
Source: chicagoswards.org
In October, 2020, a coalition of activists organized by CHANGE Illinois called on Mayor Lori Lightfoot and the city of Chicago to fund an independent remap effort. The activists' vision: A commission composed of regular citizens, not public officials, would gather public input to craft the city's new ward boundaries.
The year before, the mayor herself had called for just such a commission in an interview.
"I do favor having an independent citizen commission to draw the map—and that'll be something that we try to advance later," Lightfoot said in the interview.
And, after two aldermen introduced a January, 2021 City Council resolution for an independent remapping commission, Lightfoot spoke in support of the effort.
"This can't be a back-room, closed-door deal that the public has no insights into," Lightfoot said at the time.
But city backing of an independent remapping commission never materialized.
So CHANGE Illinois raised money on its own to form a community-based remapping group, the Chicago Advisory Redistricting Commission, to craft what came to be called The People's Map.
According to CHANGE Illinois executive director Madeleine Doubek, the organization raised around $800,000—which the redistricting commission used to organize and staff a series of public meetings citywide.
Through these meetings and other outreach, the commission sought Chicagoans' input on how to define ward borders—resulting in a resident-driven ward map, The People's Map, that it published in October, 2021.
Meanwhile, two groups of Chicago City Council members—the Black Caucus and the Latino Caucus—went to work crafting their own ward maps. Each contracted its own team of consultants and attorneys to crunch census data and interpret voting laws.
The contractors got paid over $700,000 for their remap work by the city of Chicago—even though their employers, the caucuses, are private entities.
Why, then, didn't the city devote funds to the independent map project?
Article continues below: