The city of Chicago expects that the assessment of properties in a proposed North Side special taxing district will reach $2.5 billion, according to a newly released report.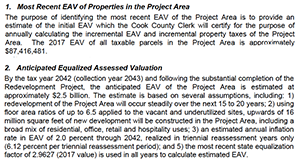 Excerpt from the city's Cortland/Chicago River TIF district
plan, showing anticipated EAV. Source: city of Chicago.
A recently released city document estimates that the equalized assessed valuation (EAV) of the area within the proposed Cortland/Chicago River tax-increment financing (TIF) district will total $2.5 billion.
The city has pitched the 168-acre TIF district to pay for streets, bridges, water pipes, sewers, transit, and other public infrastructure in the privately developed Lincoln Yards complex along the Chicago River's North Branch.
At a public meeting held on Nov. 14, 2018, officials from the Chicago Dept. of Planning and Development said that the TIF district could stockpile enough property taxes to fund $800 million of infrastructure.
The amount of property taxes the TIF district could stockpile is based on the EAV of all the properties in the district over its 23-year life. Rationale for the $2.5 billion figure comes from a "redevelopment project area and plan" document authored by consulting firm Johnson Research Group that the city recently released.
Johnson Research Group based its estimate on:
Real-estate development within the TIF district continuing over 15 to 20 years.
At least 16 million square feet of new development.
State equalization factor of 2.9627 (which is multiplied by properties' assessed value to determine EAV).
Annual inflation of two percent in EAV through 2042.
According to a spokesman for the city's planning department, next steps for the Cortland/Chicago River TIF district involve meetings in 2019: the intergovernmental Joint Review Board meets on Jan. 11, and the city's Community Development Commission holds a public hearing on Feb. 19.