In a discussion by journalists Dave Glowacz and Ben Joravsky, Dave and Ben listened to and evaluated parts of City Council meetings that took place in April and May of 2022.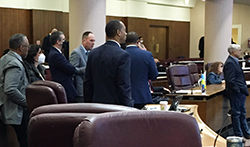 Aldermen watch an exchange between Ald. Anthony
Beale and acting council pres. Ald. Brendan Reilly
over Beale's latest effort to limit speed cameras.
Photo by Dave Glowacz.
In the standard version of the episode, Dave played audio from the April meeting of the full council—in which aldermen spoke against Mayor Lori Lightfoot's proposed $12.5 million program to distribute 100,000 prepaid transit cards and 50,000 prepaid gas-station cards citywide, particularly in "high mobility hardship community areas."
In the premium version of the episode, aldermen who supported the mayor's proposed transit and gas giveaway argued in favor of the plan.

The premium version also showed the convoluted way in which the council approved the mayor's proposal—with aldermen taking a vote on exactly how they should vote on the measure.

Also in the premium version of the episode, Dave revealed details about the large number of tax-increment financing schemes approved at the April council meeting.
The premium version also featured Ninth Ward Ald. Anthony Beale's latest attempt—thwarted again by his colleagues—to pass an ordinance that would raise the speed at which Chicago's speed limit cameras are triggered.
Finally, in the premium version of the episode, Dave played part of a hearing by the City Council's special casino committee that took place in May. In that hearing, downtown Ald. Brendan Reilly pushed back against a mayoral proposal to build a temporary casino in his ward.
Length 10 minutes standard, 51.5 minutes premium.
Music: "Red Shift" by Speed Limit 35
(Copyright 2021. Creative Commons Attribution ShareAlike 4.0 International.)
Standard audio:
Premium audio: