In an audio collage, we hear from Chicagoans who spoke at Mayor Lori Lightfoot's budget town halls, which took place in September and October of 2019. Lightfoot asked residents to "give public testimony on Chicago's 2020 budget"—and they offered plenty of ideas on how to boost revenues and cut costs.
Town hall speakers asked the mayor to cut the city's pensions obligations; increase fees for real estate transfers; boost the levels of mental health services and affordable housing; rein in loafing city work crews; turn off street lights during the day; cut tax-increment financing subsides; and help average Chicagoans to not get priced out of the city. Length 6.9 minutes standard, 40.5 minutes premium.
Music: "Las Cosas más Grandes" by La Flor del Otro
Standard audio:
Premium audio: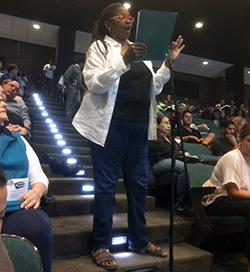 A Chicagoan gives testimony at the Sept. 14 budget
town hall. Photo: Dave Glowacz.
Report: "2020 Budget Public Engagement" summary of budget town halls and on-line survey from the Chicago Office of Budget and Management
Report: Summary of 9/4/19 Chicago North budget town hall for City Bureau by Dave Glowacz
Report: Summary of 9/14/19 Chicago West budget town hall for City Bureau by Dave Glowacz
Complete audio: 9/4/19 Chicago North budget town hall
Complete audio: 9/14/19 Chicago West budget town hall